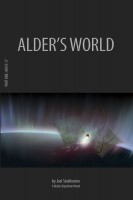 Alder's World, part one: Mass 17
Pushing past the boundaries of chartered territory, Lieutenant Commander Samuel Alder and the crew of the League of Planet's deep space research vessel, "The Duster" encounter a mysterious proto-planetary disc and become embroiled in a struggle for survival that challenges the role of humans in a universe more wonderful, more spectacular and more terrifying than they ever imagined.
and of course it's
FREE.
---
Better World: Fractured Era Series, book one
The last humans spent centuries searching for a new Earth. Now they face extinction.
For three hundred years, arks have carried the last remnants of humanity through dark space. The ships are old, failing, and every colonist must do their duty to ensure the fleet's survival.
Not a bad story. Very unnecessary to show that the main character, Maeve, is a lesbian because it adds nothing to the story.
And of course it's

FREE

.